MynameisQUE;
I was invited by 24Seven Communications for a visit to the
N.E.Mation! site at Nanyang Polytechnic the other day. :)
Brought my bestfriend along too!
We reached NYP super early so we decided to chill at Gloria Jeans.
Used this time to catch up, talk about the exboyfriends, the times we had
in secondary school. :)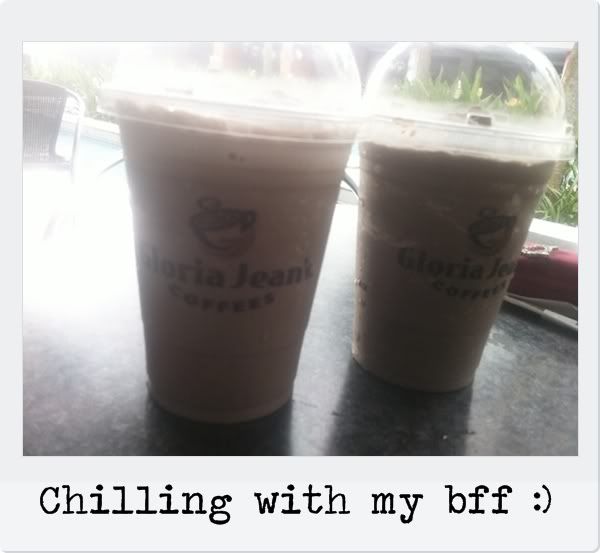 Then finally, we met the other bloggers.
Here's Joshua giving us the introduction about N.E.Mation!5.
Out of 604 teams, from 84 schools....
Only top 1.65% got selected! :)
Only 10 teams managed to get to this final stage.
I bet all of you are wondering what N.E.Mation! is,
well, it is actually a competition for youths like you and me to express
their thoughts, ideas and feelings on Total Defence through animation!
This years theme is about Singapore, our home and
what it means to different people.
The other invited bloggers include Jacelyn Daintyflair, Feliza Ong, Yong wei,
Jiaqi Woo, Alton, Sidney Reuben and a few others.
After the introduction by Joshua, we were allowed to look around,
meet the students, see the progress of the students and their videos.
This is the 3rd and final week of production and their deadline is tomorrow!
3 weeks to complete a video?!
I think its crazy. LOL!
I think the most important thing about a video is it's concept. I dread coming up with concepts
because its often time consuming and alot of thought has to be put into it.
However, with a strong concept, I believe that the video will be able to capture the hearts and minds
of its audiences. Also not forgetting the message the video is trying to convey.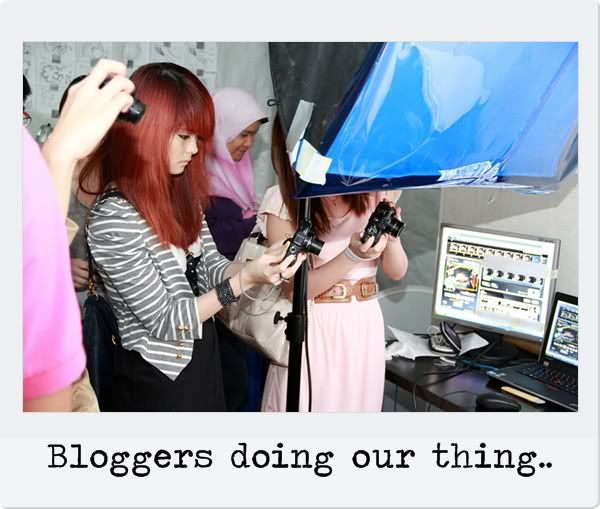 Most of them are in lower sec. And I'm only learning about production in poly?!
Look at this picture with the storyboard at the back.
Must have took them a long time to thoroughly think through about the
storyline and the appropriate angles they were gonna use for the video.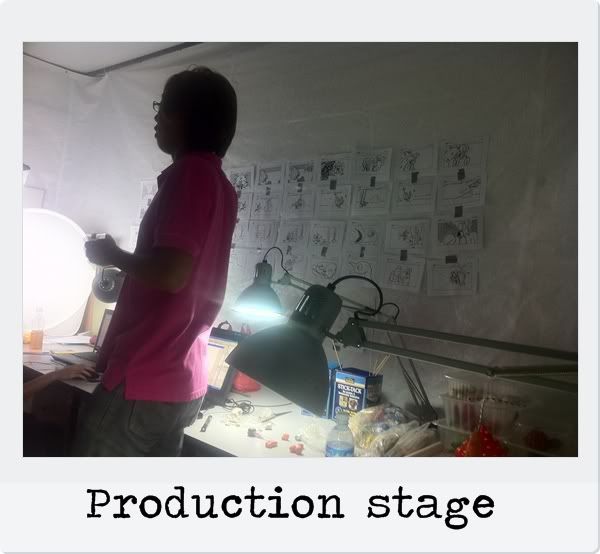 They even have house rules LOL. I think its a good way to make sure they
don't mix up or even accidentally delete the files they have. :)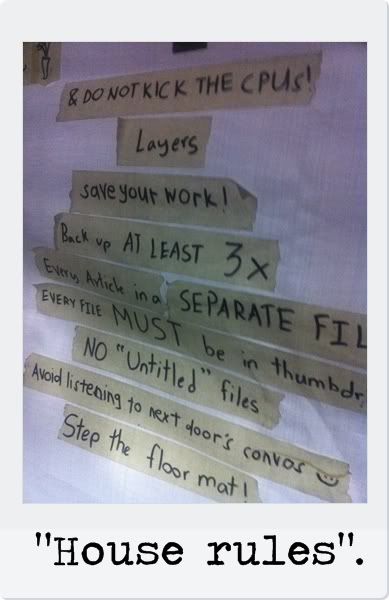 Do you know that these students come as early as 9 am and
leave as late as 11pm? Its crazy here! Really respect how the students
are very committed and determined to make their video an awesome one.
*Salutes!!*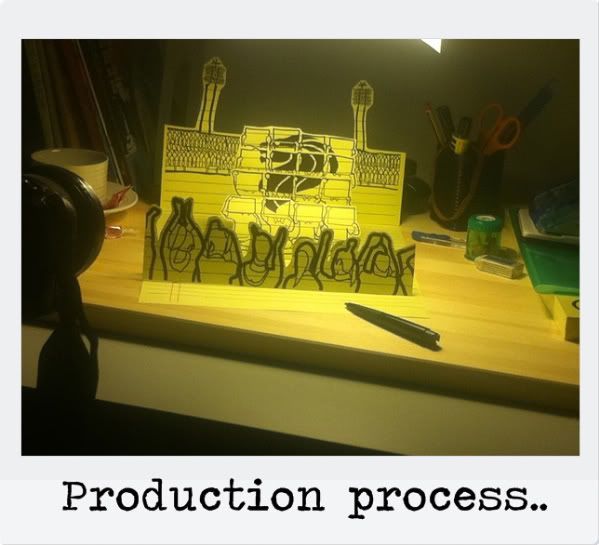 They're so creative!! One group used salt for their stop motion.
Look at how the students has to arrange the salt properly to make the intended shape.
Super tedious!! *faints*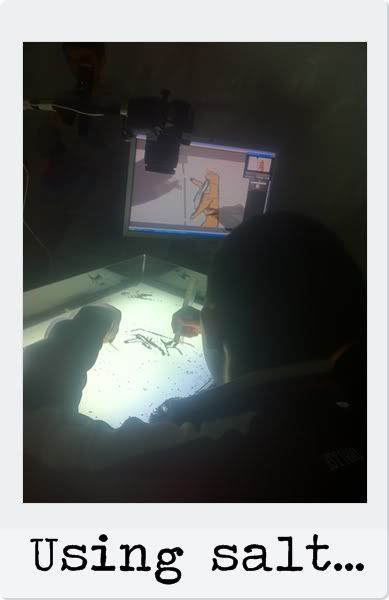 Another creative group using paper to make their props.
A.K.A origami.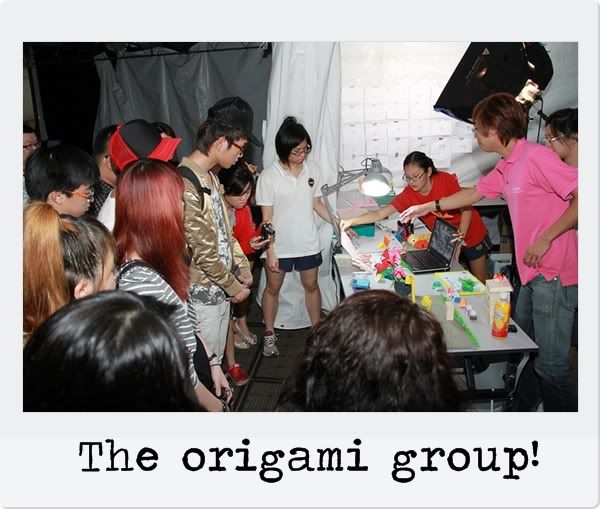 I thought their concept was quite clever.
They made like the 'saman' letter (fine letter) into a car which stops at the traffic light
and an exam paper with an F on it into the hat for the university grads. \
(Name of the hat totally slipped my mind!)
I was definitely very impressed with the concepts of the 10 teams.
Very creative! :)
Now.... I'm going to show you the works of my favourite team!! :)
Before that, which do you think is my favourite team??? :) hehehehe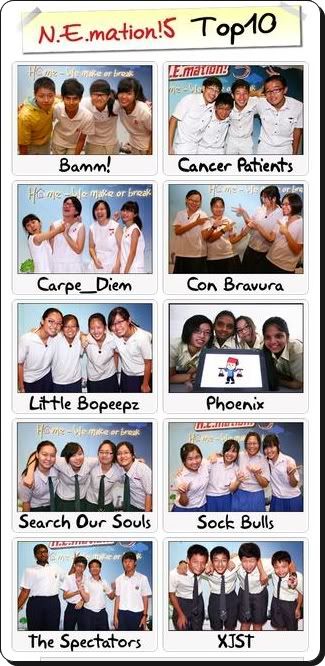 Eh.... Why so many bags of fabric?!
SO MESSY!!!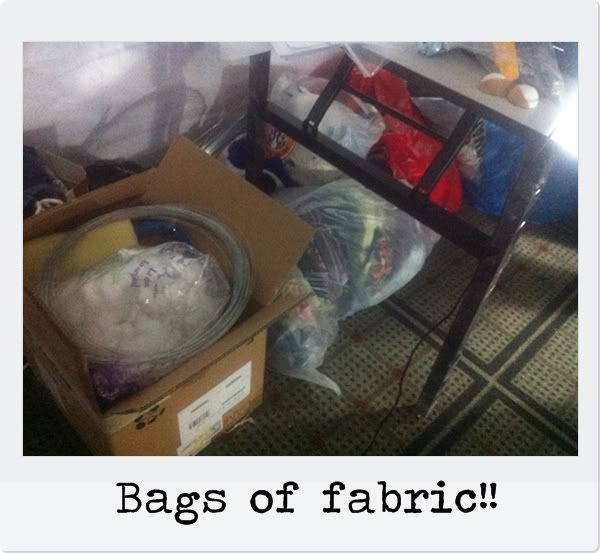 Hehehe LOOK WHAT IT'S FOR!! :)
Yes, these team actually sew the clothes for their characters!
So much hard work put in just for this competition!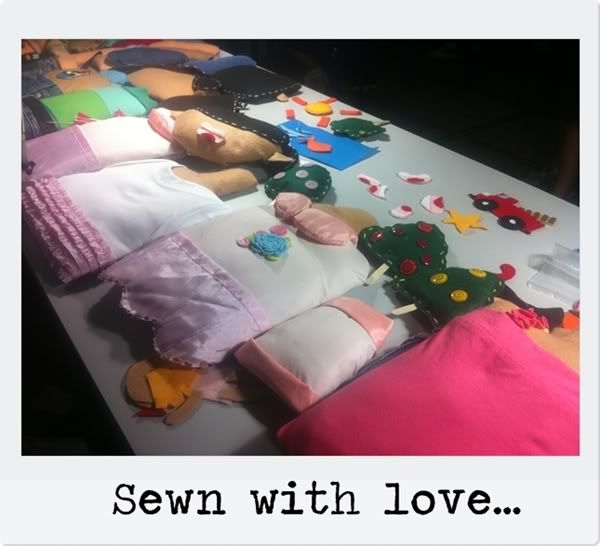 How can I not be impressed you tell me?! Lower secondary school students you know!
I can't even sew for nuts!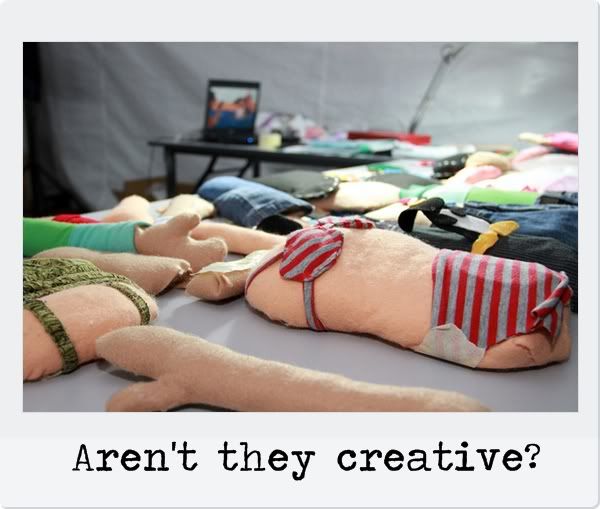 One of the tips given by the instructor to the students is to give their characters
a "human touch" so that the viewers can easily relate to the video produced.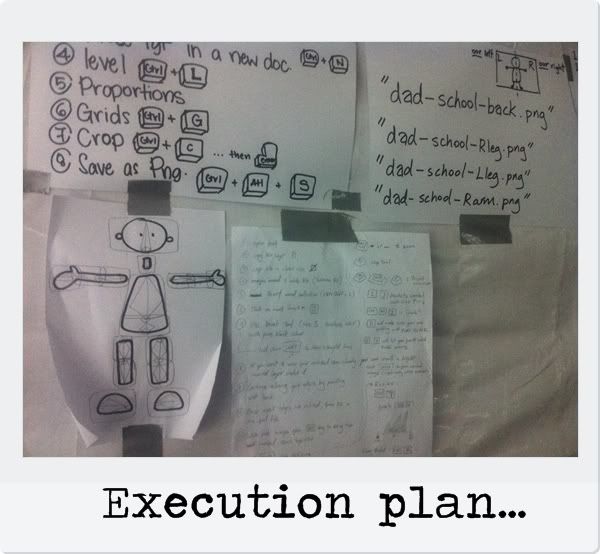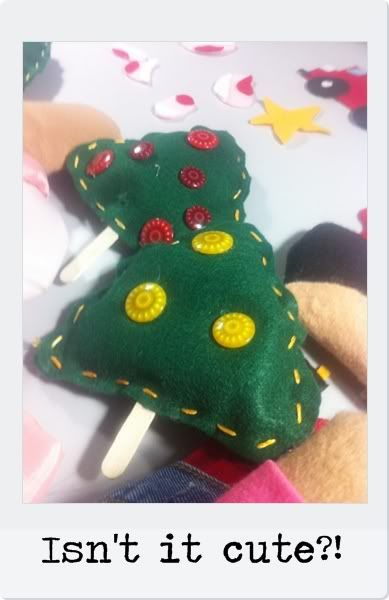 DID YOU KNOW THAT THIS IS FROM AN
ALL BOYS
TEAM?
Meaning, eventhough they are boys, they were keen to sew the stuff! :)
Sho cute!!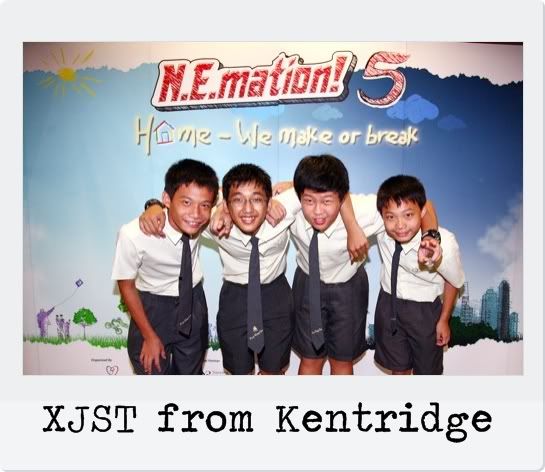 Also, they said that they did their research that all the videos
for N.E.mation for the past 5 years were never sad/emotional videos.
That's why they wanted to be different.
Their video will end with this phrase.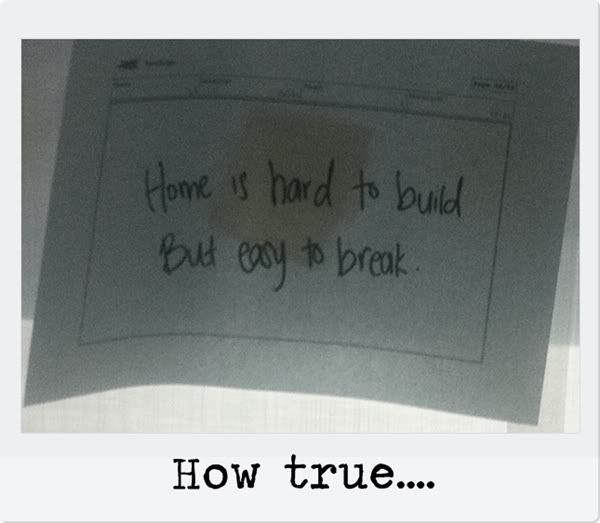 Another team that I'm rooting for is this team from St. Margaret's.
I like their whole backing concept! Super interesting. :)
No photos because the pictures I took were super unclear!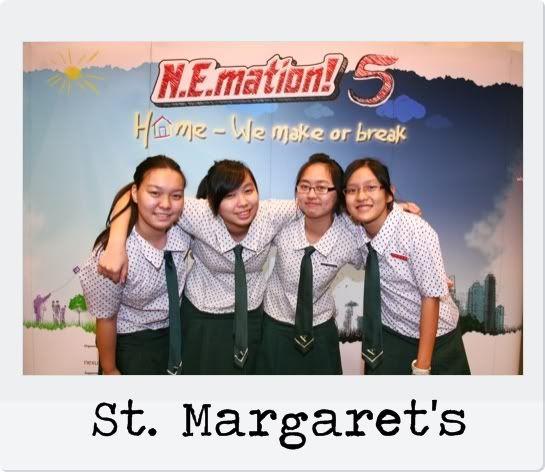 After that, we went the Naked Fish Shoppe for dinner. :)
Jiaqi and Alton.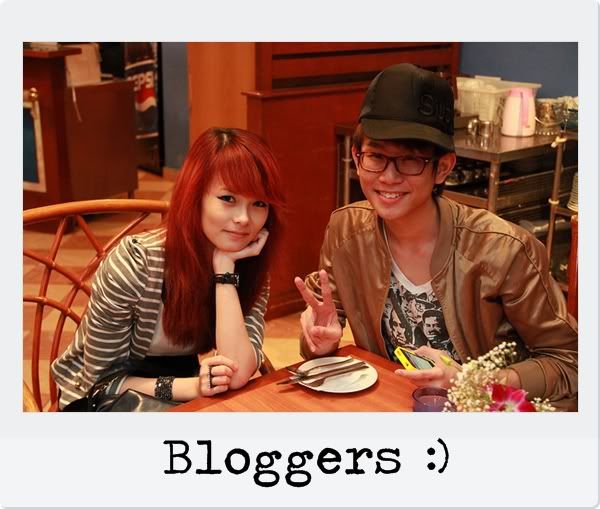 Mint and Yongwei!
Jacelyn, Feliza and James.
I've always been a loyal reader of the two ladies' blogs!
Oooh did you know that James is actually a full time blogger? :)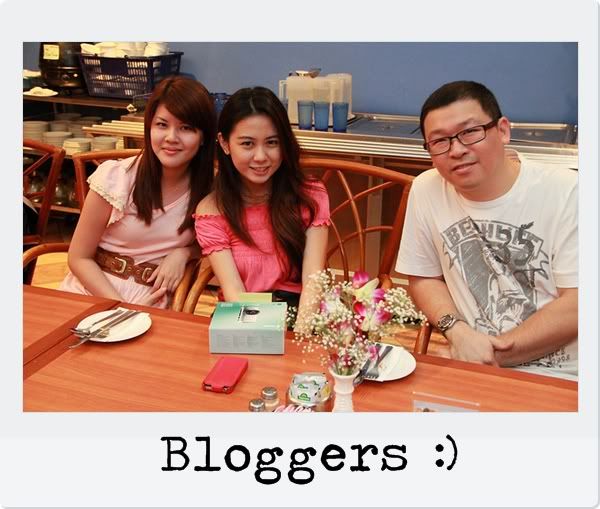 Kitsunei, Sidney and Trixy.
Me, Wanaay and Sarah!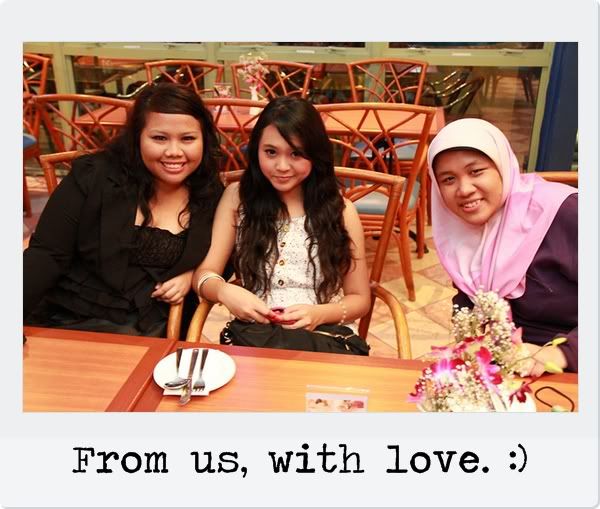 I also exchanged namecards with a blogger named Sarah.
Cute namecard huh? :)
Wait. Wait!
Pictures of our awesome dinner at the Naked Fish Shoppe!!!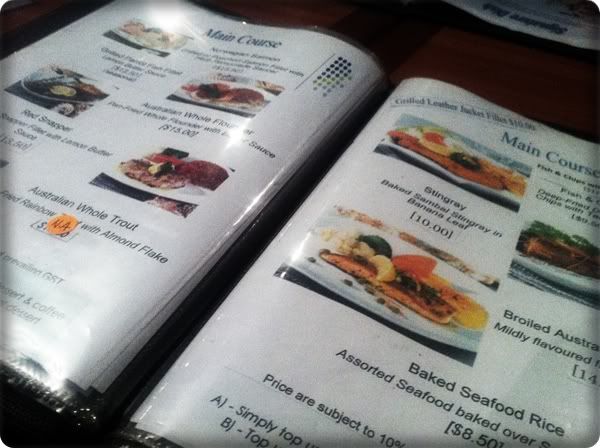 Sambal stingray set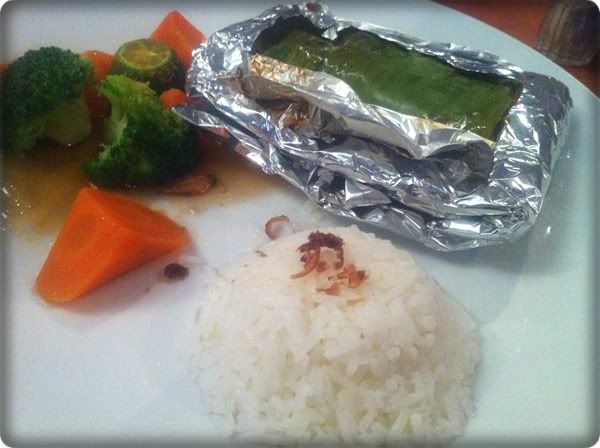 Yummy stingray!
Just that, it has too much onions. :X hahahaha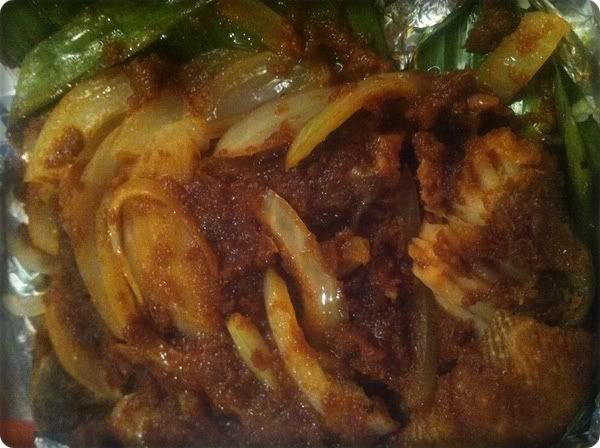 Bff's creamy salmon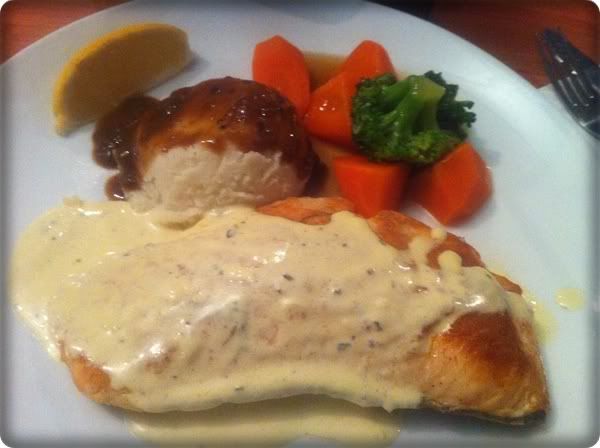 We just have to camwhore before leaving the place. LOL. :)
A video before I end this blogpost! :)
Once again, thanks 24Seven and NEXUS
for the invite and the awesome dinner!
XoXo ♥