MynameisQUE;
UPDATED!!!
For restaurant reservations, call

+65 6431 6156 :)


HOURS OF OPERATION:
Lunch: Daily - 12:00 noon to 2:30 pm
High Tea: Saturday, Sunday & public holidays - 12:30 pm to 4:30 pm
Dinner: Sunday to Thursday - 6:00 pm to 10:00 pm
Friday, Saturday& public holidays - 6:30 pm to 10:30 pm
Price for weekday dinner: $55+++
UOB

- 15% off festive menus (excl. 24, 25 & 31 Dec 2010)
Valid till 30 Dec 2010

UOB

- 15% off total food bill

Valid till 31 Dec 2010

- Not valid for high tea buffet.
The other day, my family and I tried the newly Halal
certified restaurant at Fairmont Singapore.
The other two Halal certified restaurants with a buffet spread
that are pretty famous are Carousel and The Straits Kitchen.
So let's see if Asian Market Cafe is as good :)
Once you step into the restaurantm you'll see this awesome
Gingerbread house. Honestly, I don't know if its edible.
But boy it smelled gooooooood!!! :)
Firstly, the chefs here are SUPER FRIENDLY!!!!
Look, he even posed for me. Super cute hor this uncle. :)
He even served me some some grilled fish and squid. Super nice!!!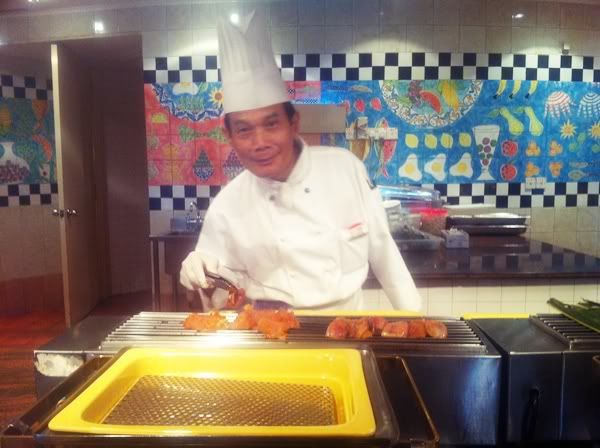 We came pretty early. Dinner starts at 6pm actually and
the chefs were still cooking the stuff. :)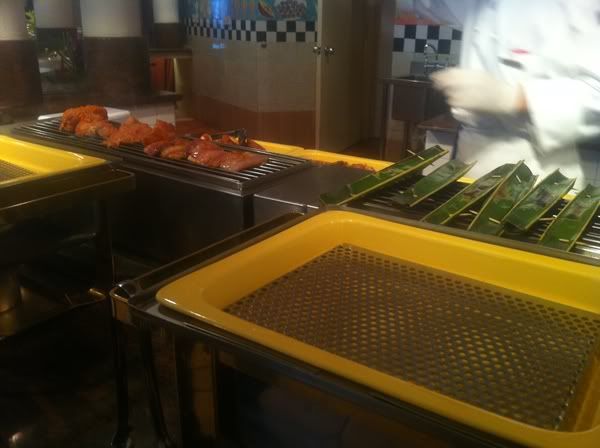 Yummy otak otak. :) Yums!
THIS IS MY FAVOURITE DISH EVER.
Grilled fish in sambal! The sambal is so awesome that you just feel
like eating it with ANYTHING. Really! No kidding!!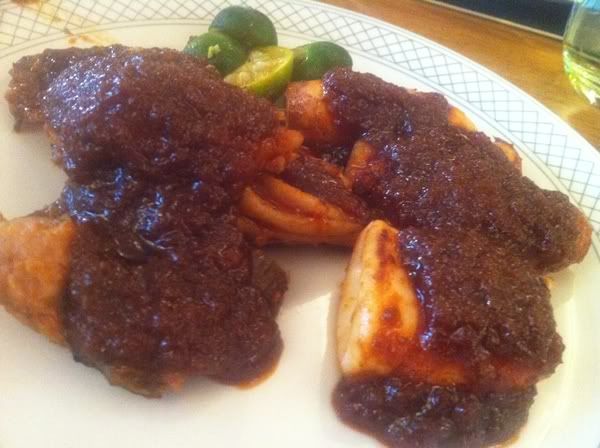 Oyster omelette!
LOL. What's the circle thing?!?!
The chef was disturbing me actually. He tried to block the dish
by using the spatula. He thinks he's being funny.
I think he's cute! LOL.
Okay, I've got to confess. I'm not a seafood lover.
I'm not really into seafood. I don't know why!
MAKE YOUR OWN LOBSTER LAKSA.
That means, you can customise your laksa, add as much gravy as possible!!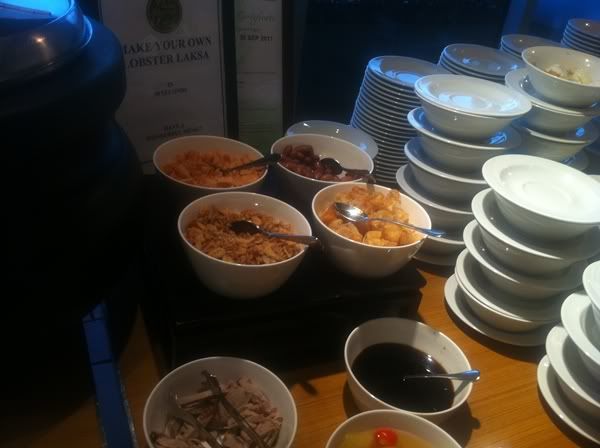 Make your own Pai Tee corner. LOL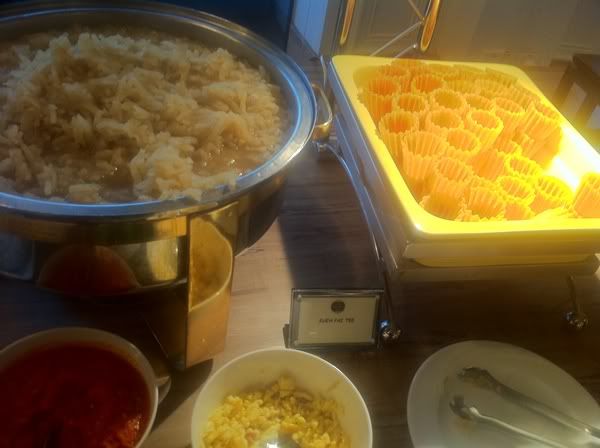 My fail pai tee. :(((
Mr Prataman! He makes pratas on the spot.
Just order away and he's also very nice. :)
I asked him to make cheese prata. Very nice you know! :)
MORE FOOD!!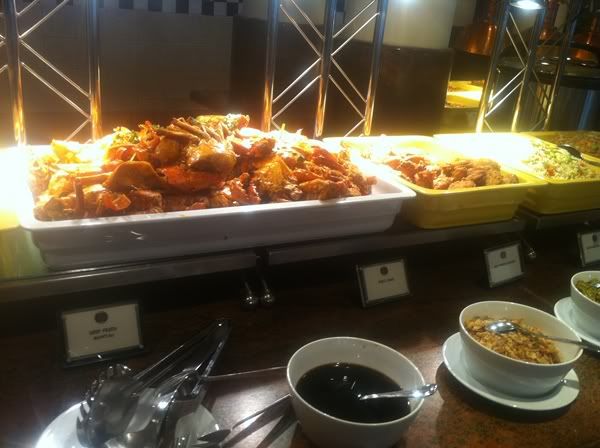 Chilli crab! :)
Chicken teriyaki!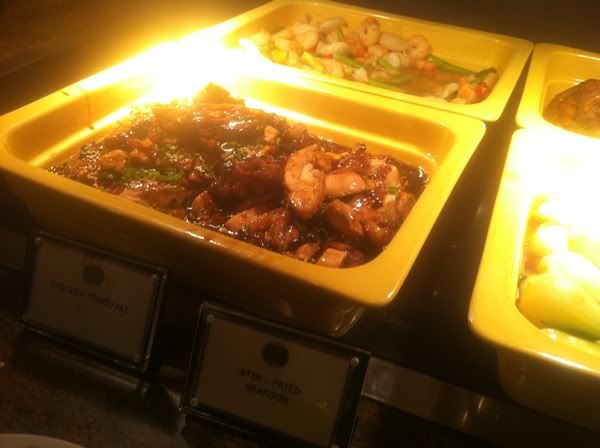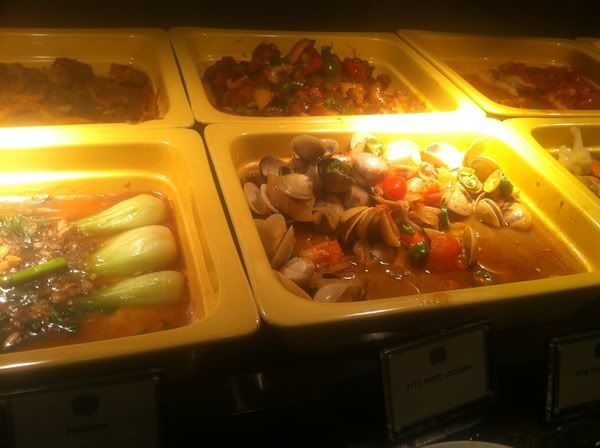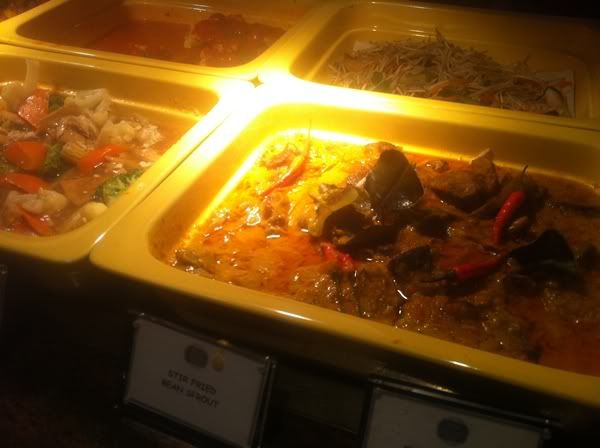 Yes, this is for all you salad lovers all there.
:) The salad bar!!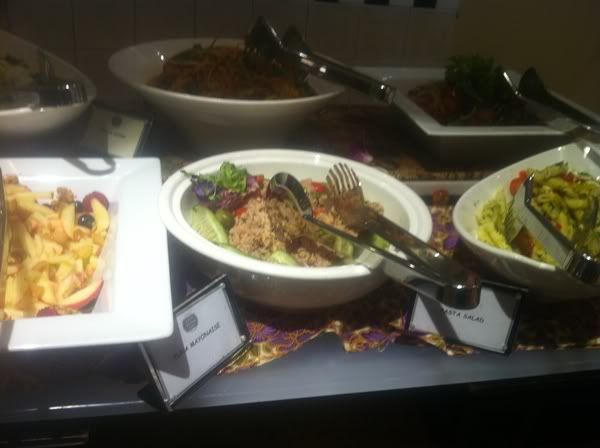 More vegetables!!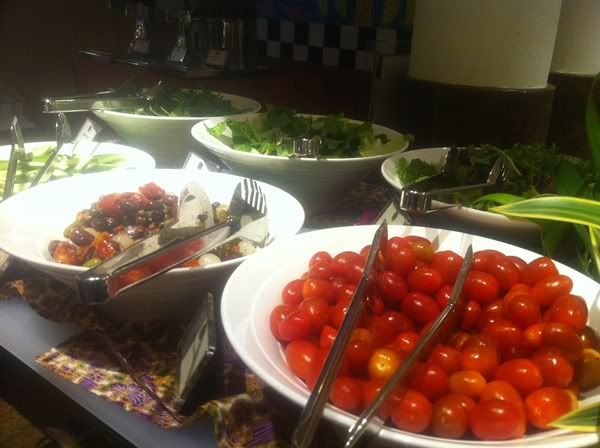 Raw crabs. :)
Lots of Sashimi.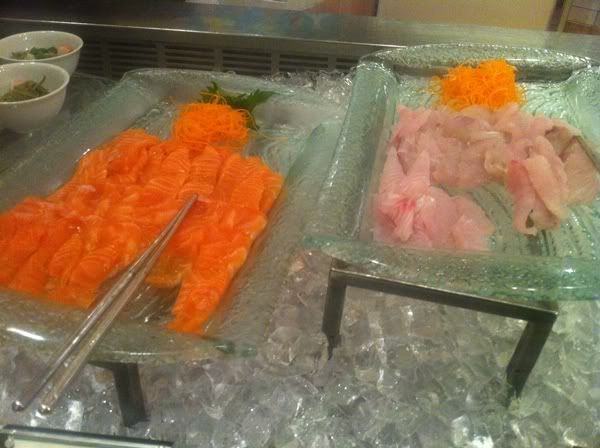 More raw seafood. :)
More raw crabs!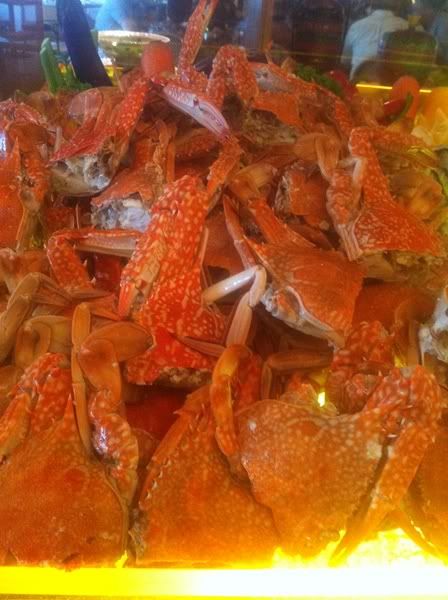 Raw oysters.
Raw prawns!
DESERT!! :)
Uhm, okay. Healthy stuff first. LOL.
Fruits!!
Make your own ice kacang!
Yummy deserts!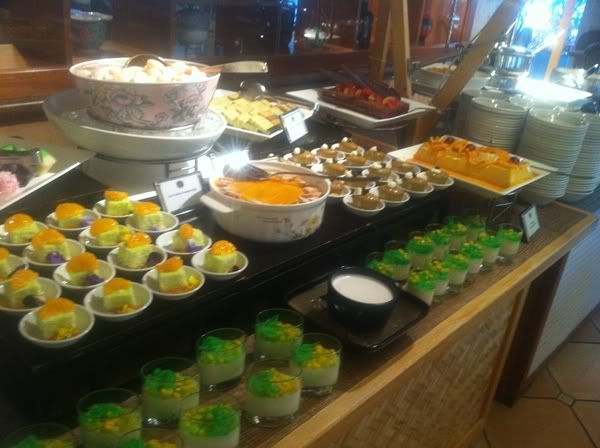 Egg tarts, bread pudding and durian pudding!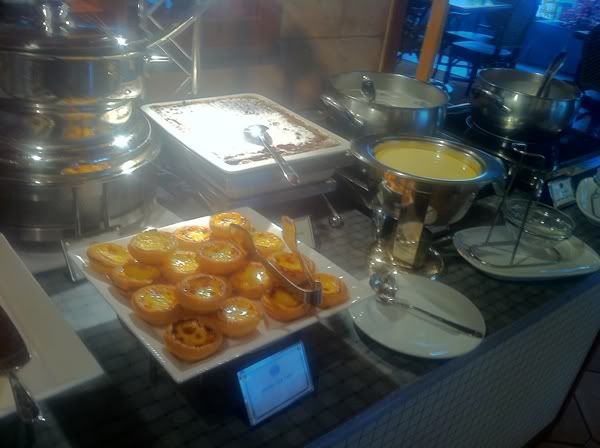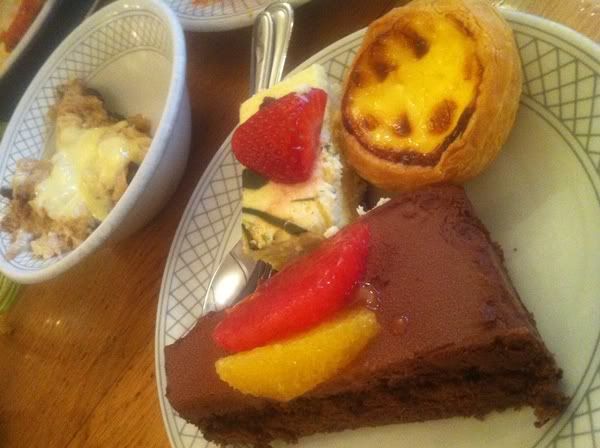 Simple flavours, nothing fancy. :)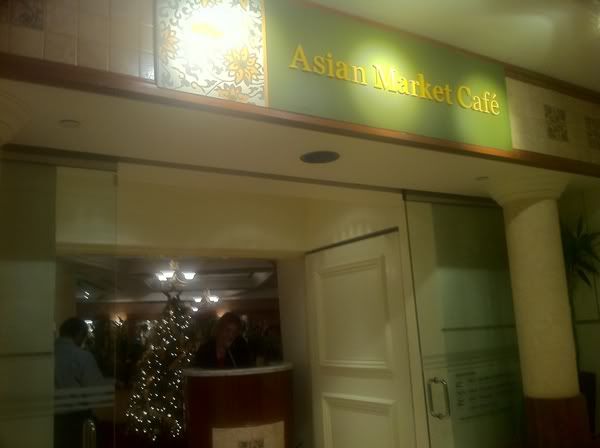 Conclusion:
I've been to both the other restaurants namely Straits Kitchen and
Carousel. Straits kitchen doesn't really have much seafood so if you're
a seafood lover, I'd suggest you to go to Asian Market Cafe, Fairmont Singapore.
It'll definitely be worth it eventhough the price is very steep.
If you're a desert person, you might want to choose Carousel or AMC cus
both has really awesome desert. Don't forget to try the durian pudding
at AMC! It's very delicious!
SK's deserts aren't really very impressive IMO.
Honestly, I don't really fancy Carousel's spread. The only
awesome thing about the buffet spread is that it has chocolate fondue and
really super nice bread pudding. Again, IMO. The cakes are really not bad too.
One thing I'll go to SK for is that its Indian cuisine is not bad.
They also have Butter chicken which i REALLY REALLY LIKE.
Oh, SK also has this Hot and Sour broth which is really nice!
Also, I felt that the AMC's chefs are really friendly, they'll talk to you,
ask for your feedback. Not really like the chefs at the other 2 restaurants.
But one thing for sure, I'd choose Asian Market Cafe over the other two
anytime because not only are the dishes delicious, it's desert spread is
very impressive and I LOVE THE GRILLED FISH. (IKAN BAKAR BTW).
:)