Hi,mynameis
QUE
;

And I am a happygoober.


On Wednesday evening, I got a call from someone claiming to be Nity Baizura,
producer presenter from Ria 89.7fm and she asked if I was free on
Thursday night with my bestfriend to be on the Ria Skoolz show.


I was elated, like to the max.
I sent her an email months ago,
stating my interest to be a student radio dj for a day.
To be exact, I sent her that email in August 2009!
And to think that she FINALLY contacted me, I WAS DAMN HAPPY!



Then, I realised that yesterday's date was.....

Yes, 1
st
of April. Who knows, someone decides to be mean
and wanted to play a prank on me?


AND IT WAS HER. REALLY REALLY HER.
CAN YOU IMAGINE HOW EXCITED I WAS.


A few weeks ago, some girl said this to me.
"At least I've got a chance to be a DJ live" and
she was rubbing it in my face on how
I haven't gotten the chance, but yesterday, I did.


Bestfriend and me took the train to Toa Payoh.
It's the nearest mrt station to Mediacorp.
I think. We took a cab from
Toa Payoh and finally reached our destination......



Touching up first...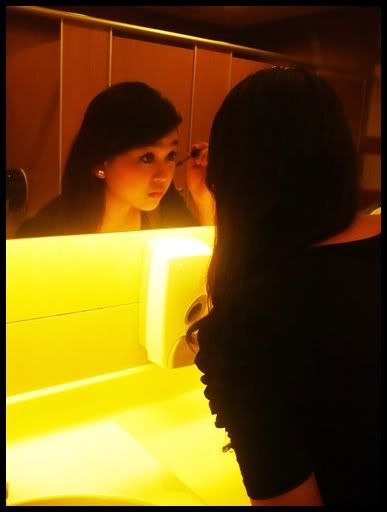 We had to get our visitors passes from the counter.
I've only been here like... twice?


The first time was in primary school and the second time
was last year when I went to watch Okto!Live.






AND WE GOT OUR VISITOR PASSES BAYBEH.


Then we sat down and wanted to watch tv.
And bestfriend asked.
"Eh there are 4 screens, which channel do you want to watch?"
Hahahaha. I couldn't watch the tv, it gave me a headache seriously!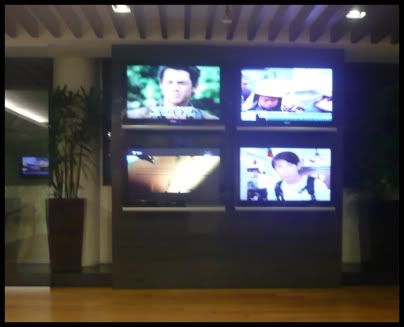 We reached at around 8 and Nity, the dj,
will only be calling me at 8.30pm.
So, as usual, we decided to go to the toilet to camwhore.






Cute eh? HEHEHE.

After that, we had to locate the Radio building.
It was quite easy to find, thank god.
The first conti that we saw 938 LIVE.






And FINALLY we met Nity Baizura.






She asked us about things regarding our friendship
like how long we've been bestfriends and all that.
My jaw dropped when I saw Nity reading the news.
She read like a pro and one thing for sure, she isn't like Ris Low.

She never stumbled on her words and she was able to think on her feet, FAST!
Something I am supposed to do when I host informal events, but it is really hard.
Salute!






The whole experience is really an eye opener for me.
Being a radio dj is definitely something not easy
and as long as I don't work hard to improve on my language,
I can kiss my dream goodbye.
Truthfully, I felt like shit after the whole 1 hour.
I kept speaking in English and I stumbled on alot of words.
I felt like a total loser. I keep criticizing people who
can't speak in their own mother tongue fluently
and look at what I've become? SIGH....
So you know what?
All the more I'm motivated to achieve my dreams.
I am gonna read and write in both Malay and English
more often and expect a change.
A positive change.


On that note, to those who tuned in to Ria 89.7fm yesterday,
I hope you didn't go deaf after I sang and
I hope you've learnt abit more about the both of us.
My name is RynaQUE and her name is Wanaay.
Remember our names.




Mediacorp, where dreams become reality.


BTW, I made a new friend yesterday.
Say hello to Ahma!