Mynameis
QUE
;

We all have exboyfriends, haven't we?
Don't you ever wish that they'd just disappear,
cos this not only will make us feel happier, we won't even be reminded of
these worthless creatures and what we used to share?



Life would be so much peaceful if they disappeared.



Am I being too mean?
Its the truth lah seriously.



Look at what I found on the net?



Which category does your exboyfriend fall under?
Mine would go under.... a great guy but it just didn't work out.
OMG I just made myself sound like a bitter exgf who isn't able to get
over her exbf. But it's the truth. He's a great guy but just abit weird in
so many ways. Hahaha. Oh the times.....



I'm glad I'm not the only woman who stalks her exes.
Cos I see so many women doing the exact same thing.
Why are we so busybody ah?
Beats me.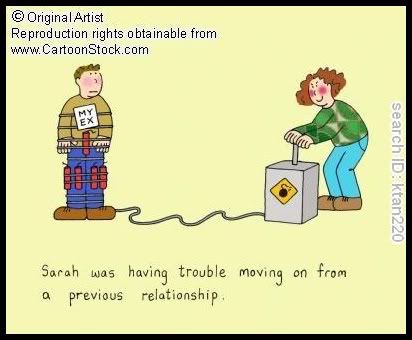 Oh Hi everybody. I'm Sarah.
LOL.


And btw, if you're ever stuck with any shit that your exbf has given you,
and you don't want to give it back to him,




Hehehe. Here, you can find all the bitter exgfs just like yourself,
who are trying to get rid of the stuff exbf left them with.
Why be nice and give back the stuff?
I'd rather sell it, and heh earn some MOOLAHS.
And I KNOW I AM NOT ALONE ON THIS ISSUE.