MynameisQUE;


Look at the title of this post.
Yes, that was exactly what this KFC woman said to Sadali,
when he went to KFC. We couldn't stop laughing like mad after that!



As you would have already noticed,
KFC has a new product.
Its the EGGTARTS!
Well, they launched it in conjunction with Chinese New Year, I guess.



And KFC is quite smart uh?
They got the bloggers to do an advertorial for them,
soon word spreads and people start buying.
And guess what?
When I went home yesterday,
GUESS WHAT I SAW ON THE TABLE?
Yes, You've guessed it!
Kfc Eggtarts!



OF ALL PEOPLE, EVEN MY MUM BOUGHT THE TARTS!



Well, mummy isn't the kind that is easily influenced by advertisements.
So I was rather shocked when I saw the eggtarts on the table for dinner.
Of course not munch solely on Eggtarts, you must be mad.
But this certainly shows that KFC has somewhat achieved their goal,
that is to drive people to buy their eggtarts!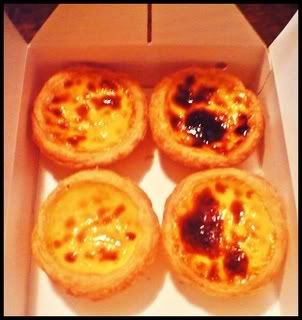 At first, I was skeptical about the tarts.
But when I took my first bite.... IT WAS AMAZING!
But of course, think about it this way.
I think we, customers are buying it mainly because
its not something you can easily find at any other shops.
Its not like the pies that you can also find in other fastfood restaurants.
Basically people buy it cos its UNIQUE.
Like wtf, I remember I could by 6 tarts at 3 ringgit at Giant, Johor Baru.
It's expensive, but we stupid Singaporeans are STILL buying it.


And I am one of them.



Happy advanced Vday.